Tips and Walkthrough: Candy Crush Level 2
Candy Crush Level 2 Tips
Requirement:
You need 1900 points to clear level
You have 15  moves
Level 2 guide and cheats
So its a second level and you might be little bit pro but still you see lot of different new things and moves that gonna help you to score more. Now you should try to make moves that could give maximum score  like instead of matching 4 or 3 candies try to make 'L' or 'T' which gonna make wrapped candy. So if you match wrapped candy and striped candy(matching 4 candies) will blast 3 rows and column or if you more lucky and can match 2 wrapped candies will clear whole 8 * 8 row and columns. You could make bomb by matching 5 candies and if you match with striped candy will transfer all same color normal candies to striped candies that you could see below in screenshots.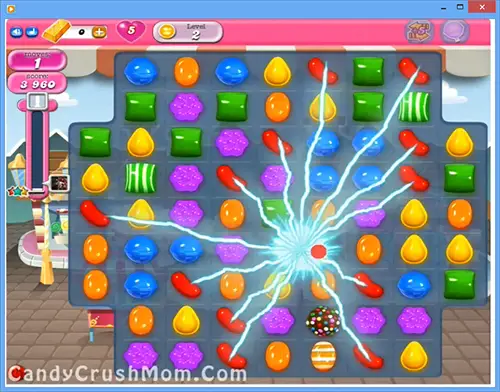 You can see in screenshot that after combing a red striped candy and color bomb transfer all normal red candies to activated striped candy which could give a  big chance to score huge number of  points.

Candy Crush Level 2 Walkthrough Video
We needed only 1900 point that we had to score in just 15 moves but in a walkthrough video we uses lot of techniques to score more by using color bombs and striped candies.